---
Artist: John Young
Title: The Shape of Things To Come
Produced by: John Young
Label/ Date: Heritage/ 2003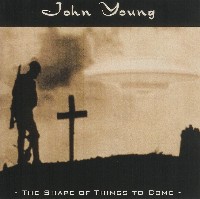 Tracks:

1. Kings
2. Childhood's End
3. Unknown Solider
The Review:

John Young has been very kind to me other this past year with allowing me to review his demos and finished CDs. Here's we have another set of demos, this time in a progressive vein. The demos' title is appropriately titled "The Shape of Things To Come"

It is three songs, one of which is an instrumental. John does all the instrumentation as well as fantastic vocals..My only gripe is the sythesized drum sounds, but I know this isn't the finished product so I have over looked that "gripe".

Musically, John explores the neo prog genre with a sophisticated style by way of a classic prog sound. I know that in some circles, neo-prog isn't deemed worthy of the name "prog" but just give John a chance and you'll see his brand of music is very sublime. Yes it's song based but better than most, mainly because he does it an updated fashion.

Reviewed by Ron Fuchs on December 17th, 2003

To get to the artist's website, please click on the CD cover.

Reviewed Discography
Related reviews by this artist/band at ProgNaut.com.
Copyright © 1998-2010, ProgNaut.com, All Rights Reserved.