Artist/ Band: IQ
Title: The Wake: 25th Anniversary Deluxe Edition
Label: GEP
Year of Release: 1985/ 2010
Offical Artist/ Band Link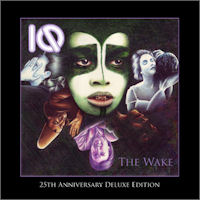 The Review:

First off, I have to say that IQ is my favorite "neo-prog" band, seconded only to Twelfth Night. My first exposure to IQ's music was in 1993 when I saw them at the first Progfest at UCLA's Royce Hall in Los Angeles. Since then I've collected all of the band's studio albums as well as their live dvds. Their second album, a classic within the genre, The Wake has been one of my favorite albums of theirs from the 80's. Some of the standout tracks are "Outer Limits" (8:13), "The Wake" (4:11) and "Widow's Peak" (9:13). Theses are also my all time favorite of the band.

2010 marked The Wake's 25th anniversary and saw the album reissued with the original track listing of 7 tracks, which is three tracks shorter than the first edition of the album. Included in the new version is an information chocked 60-page booklet and a cool foldout poster (of which I need to find a frame to put proudly on my prog wall).

There are 4 discs (3 cds & 1 dvd) of music, the first being the entire The Wake album. Discs 2 & 3 have previously unreleased demos, outtakes, rough/alternate mixes, works-in-progress, BBC session cuts and the live debut of Widow's Peak. The DVD features eight live cuts from Watford, October 1984 as well as commentary from Peter Nicholls, Paul Cook and Mike Holmes. Plus a lot of goodies for the diehard fan. Each disc is housed in cardboard sleeves within a hard cardboard cased box.

If you're already a fan and want to know if it's worth upgrading to the new version, I will say YES! If you're a newbie to IQ, this is a very good place to start. I'm hoping the rest of the 80's IQ catalog will get the same treatment. You can count me in as a buyer if they do. I can only leave you with two words as a conclusion, HIGHLY RECOMMENDED!

Reviewed by Ron Fuchs on December 3rd, 2010

Editor:There's a live cd/dvd of The Wake Live in June 19th, 2010 that I'd highly recommend and is essential to any true IQ fan..
Tracks:

Disc 1:

01. Outer Limits (8:15)
02. The Wake (3:12)
03. The Magic Roundabout (8:18)
04. Corners (6:20)
05. Widow's Peak (9:12)
06. The Thousand Days (5:12)
07. Headlong (7:25)

Disc 2: Bonus Tracks

01. Outer Limits (WIP Demo)
02. Outer Limits (Demo)
03. Outer Limits (Vocal Outtakes)
04. The Wake (Vocal Outtake)
05. The Wake (Rough Mix)
06. The Magic Roundabout (Writing Session)
07. The Magic Roundabout (Demo)
08. The Magic Roundabout (Vocal Outtakes)
09. The Magic Roundabout (Rough Mix)
10. Corners (Demo)
11. Corners (Vocal Outtake)
12. Corners (7" Single Remix)

Disc 3: More Bonus Tracks:

01. Widow's Peak (First Live Performance)
02. Widow's Peak (BBC Friday Rock Show Session)
03. Widow's Peak (Vocal Outtakes)
04. Widow's Peak (Alternate Mix)
05. The Thousand Days (Writing Session)
06. The Thousand Days (Demo, Early Take)
07. The Thousand Days (Rough Mix)
08. Headlong (WIP Demo)
09. Headlong (First Complete Runthrough)
10. Headlong (Vocal Outtake)
11. Headlong (Vocal Outtake)
12. Headlong (Rough Mix)

Disc 4 - DVD:

47 minutes of ultra-rare live video from 1984 (the oldest existing footage of the band)
- The Enemy Smacks
- The Thousand Days
- Widow's Peak (Part 1)
- It All Stops Here (Part 2)
- The Magic Roundabout
- Awake And Nervous
- Barbell Is In
- The Last Human Gateway (Parts 1 & 2)

A full album video commentary by Peter Nicholls, Mike Holmes and Paul Cook
The multitrack files for a DIY-mix of the song "Corners"
Tons of additional audio-material and interviews as MP3 files
- A 60-page-full-colour-booklet, featuring new artwork, unseen photographs, memorabila and a documentary of the album´s history with contributions from all members of the band
- A double sided poster featuring the original album artwork

WIP = Work In Progress
Reviewed Discography
Related reviews by this artist/band at ProgNaut.com.

Copyright © 1998-2010, ProgNaut.com, All Rights Reserved.