ProgNaut.com History/ Brief Bio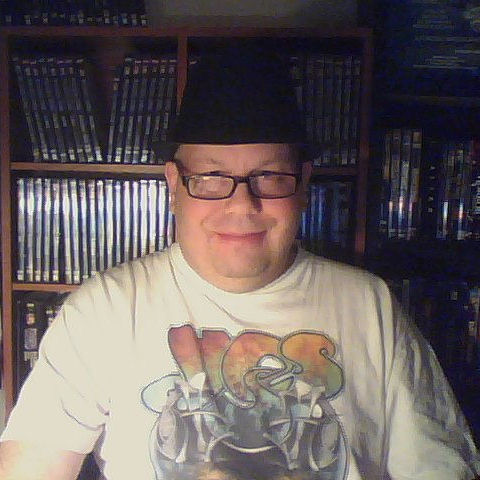 Ron a.k.a. ProgNaut (January 1st)
Hello and welcome all web travelers to the history section of ProgNaut.com. My name is Ron and I'm a native Southern California. I was born in Burbank (a suburb of Los Angeles) back in 1966 (across the street from NBC Television Studios in fact). I recently reside in Maine.
Basically, I've been listening to the progressive rock genre ever since early 80s, when I bought my first prog cassette tape (Emerson, Lake & Palmer - "Self Titled" cassette. The song that stood out to me was "The Barbarian") and later in the decade (Marillion's "Misplaced Childhood"), but it wasn't until 1990, when something amazing happened to me. You might say, I had a musical epiphany. It all happened while I was working at a local record shop (Music Exchange) in my hometown of Glendale (California). At that time I was very much into thrash metal and classic hard rock. The manager grew tired of all the trash metal being played, so counterbalance things, he put on a cd by King Crimson's Red over the in-store stereo system.
Once I heard the entire Red album (several times), I was simply mesmerized by the dissonant yet beautiful metallic sound. I finally heard, that there was so much more music out there for me to discover. Needless to say, I quickly bought the store copy. After listening to Red in the comfort of my own home, my music buying habits changed forever that day! (Up until that time all I heard, usually on the radio, was the usual suspects of progressive rock, such as Yes, ELP, Kansas & Genesis, Pink Floyd, etc.)
Fast forward a few years to 1993, while I was reading a local paper called L.A. Weekly, I came across an advertisement for a progressive rock festival, called Progfest, at U.C.L.A.'s Royce Hall. So for the first time, I was able to witness progressive rock in a live environment. The highlight of that festival were IQ & Anglagard. Both band put on memorable & stellar performances.
Since then, I've had the luxury of attending at all of the Los Angeles based Progfests and witnessed some amazing performances at each one.
Some of my personal highlights of 1994 were Giraffe's amazing rendition of The Lamb Lies Down on Broadway with the late Kevin Gilbert at the helm. Another was Echolyn (their first and so far only west coast appearance.) They were the most modern edged (and the loudest) prog bands at Progfest '94. They quickly became one of my favorite prog bands ever.
At Progfest '95 and Progfest '97, Spock's Beard which became another favorite band. At Progfest '97, I got to see John Wetton live. He was and still is one of my favorite vocalists. Some time after the first day of the festival ended, maybe around midnight, I had a wonderful with Martin Orford of IQ & John Wetton band and learned more about IQ. Also The Flower Kings (Since then, I have seen them in better form (yet louder) at The Troubadour (West Hollywood) in April 2002.
In early 1998, as a way to say thanks to the genre of music that I love, I created a proto-type ProgNaut.com site that first served as a personal homepage to show off my favorite progressive rock bands worldwide at the time.
Three years later, in May 2001, I first started to review CDs with the sole intention of showing the "fan's point of view" and since then it's exploded into a small but viable existence within the prog community.
In the year 2003 was the 5th year anniversary of ProgNaut.com which included the start of a better website. By 2004, the average submissions by bands and labels for reviews increased, making it a very busy year.
One of the biggest milestones to date happened in 2005, when Ed Unitsky sent me the creation of a new banner/ logo for ProgNaut.com . We also extended our web presence with the addition of a page over at MySpace.com (and later years, with Facebook and twitter).
Beginning in December 2005, I added some guest writers to help take on the work load. The guest writers style are very much on par with the quality with the reviews from a fan's perspective rather than a journalist. .
In 2006, I was divorced after 5 years of marriage. Between 2006 and 2008, was possible the darkest time of my personal life. I won't go into details about this period of my life.
On a positive note, in 2007, I met this wonderful lady online and I visited her three times. I knew there was something special about her. So on September 5th, 2008, I took the biggest plunge of my life, when I moved from California to Maine to be with my girlfriend. It was the best decision I had ever made.
During 2009-2010, were the busiest years due to the rise of more submissions of cds & dvds to review. In the summer of 2009, marked a move to more reliable hosting company and began a slow renovation of the entire site. Also in 2009 I attended my first east coast festival, 3RP and had a blast! I finally got to see Glass Hammer, Phideaux and Syzygy after years of reviewing their CDs.
In 2010 brought in some fresh new writers to help me out with the reviews. I think this was the high point of the reviews' section as well as some concert reviews and interviews.
Please stand by here for more details!