Interview with
Lana Lane & Erik Norlander
One day in May, I met up with local prog musician Erik Norlander and his singer/wife Lana Lane to have lunch and to ask them a few questions about their recent releases and other relevant inquiries. This was very loose and laid back as it was my very first in-person interview.
Those releases are Lana Lane's Covers Collection and Erik Norlander's Music Machine. I was very comfortable talking with them and asking the questions. I also feel they were as comfortable with me upon giving their answers. As this interview gets published, Erik & Lane will have already embarked on their 2003 European Tour.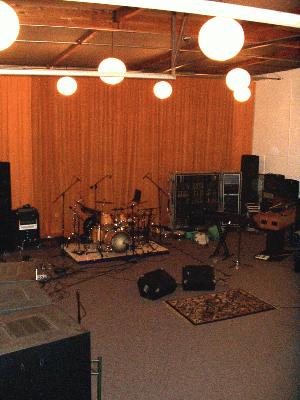 Think Tank Media Studios courtesy of Erik Norlander (click to see full size pic)
Ron Fuchs: Based on Lana's latest release, "Covers Collections". How did you go about chosing each song?
Lana Lane: Over the years, we have assembled a list of songs that fans, friends and business associates have requested for me to cover. There are quite a few songs on this list as you can imagine! When we made our final decisions for the 'Covers Collection' album, the most important thing was that the songs fit my voice. I needed to be able to sing them well and also bring something new to them -- not just repeat what had already been done.
R.F.: What made you do a concept album for your 3rd solo release?
Erik Norlander: I have produced albums in the past with loose concepts. Rocket Scientists 'Oblivion Days', for example, has the theme of oblivion running through it -- people and events pushed to their limits. 'Into the Sunset' was about transition: fading away and rebirth. Lana's 'Secrets of Astrology' had the consistent theme of astrology, mythology and the heavens running throughout, and 'Garden of the Moon' all related to gardens and mystical earthbound happenings. But 'Music Machine' is the first album I have done where there is a concrete storyline through the whole album and where every song moves the story along. After producing more than 15 albums, I really felt it was time for me to take on such a grand project. I don't want to fall into the rut of repeating myself -- there's no point in doing the same thing over and over. I really believe 'Music Machine' is something different, something special.
R.F.:When picking musicians/singers for your music, what do you look for?
Lana: We always try to use the right musician for the right song. Erik in particular has a lot of musician friends, and a lot of really great musician friends. Every musician is better at some things than others, that's true for me too, and so we always try to identify a musician's strongest points and then use them for that!
Erik: That's exactly right. You will notice on 'Music Machine' that I have not one, not two, but *three* expert drummers on the album. Any one of them could have drummed the whole album just fine, but I really wanted to get the very best for each song. On the extremes, you have Virgil Donati who is an absolute technical magician -- he does these elaborate double kick drum parts that I would be hard pressed to even program on a machine. And then on the opposite end of the spectrum there is Vinny Appice who is the loudest drummer on the planet. Vinny's heavy, heavy groove makes songs like "Beware the Vampires" and "Heavy Metal Symphony" real anthems. We have played concerts with Vinny in big halls where he hits drums so hard that the soundman takes him completely out of the PA system! Can you imagine such a thing? Well, he wasn't the drummer in Black Sabbath and Dio for nothing! The third drummer, Gregg Bissonette, really is a master at subtlety. He has the ability to support a vocal and a theme like no one else. He can play very advance music like "Soma Holiday" but also very simple bluesy songs like "Lost Highway". Gregg is 100% music.
R.F.: How did you get Buck Dharma to guest on Music Machine?
Erik: I was introduced to Buck through an Italian journalist a couple of years ago. I mentioned in an interview for 'Into the Sunset' that Buck Dharma is one of my favorite guitarists. Coincidentally, this journalist had just done an interview with Buck for the last Blue Oyster Cult album, and so he sent Buck some of my CDs. Buck and I then corresponded for a while, met for lunch or drinks when we were in the same city, and even got together to jam a bit. We've really become good friends, and it was great to finally record something together. I hope there will be more. I think there's a good chance.
R.F.: You seem to work with all the best musicians & singers in the genre, who would you like to work with next?
Erik: I would love to work with Keith Emerson and / or Rick Wakeman. Those two guys are my heroes. It would be a bit odd, perhaps, to work with multiple keyboardists, but it is possible. I'd also like to do something with John Wetton or any of the members of Yes or Rush. It would also be great to play with David Gilmour or Adrian Belew -- I really enjoy their playing.
R.F.: When keyboard greats like Wakeman and Emerson, write liner notes about you, does that intimidate you or does it humble you?
Erik: It's a great honor to have my heroes acknowledge my work. When these guys write about me, it only motivates me to work that much harder to hopefully one day approach the greatness they have achieved.
R.F.: Ever consider singing more? You have a unique voice that I have enjoyed especially on 'Tour of the Sprawl' and 'Mariner'.
Erik: Well, thanks! I do sing, but I don't consider myself a singer. I work with so many fantastic singers ... hmmm, let's see ... Lana Lane, Mark Boals, Mark McCrite, Glenn Hughes, Kelly Keeling, Robert Soeterboek, Scott Kail, Edward Reekers, and surely some others that I am forgetting ... it just seems silly for me to sing too much when all of these people are ten times the vocalist that I am. But I will continue to add a few vocals here and there on future projects when I feel it is suitable.
R.F.: On a previous release, you covered "Phantom's Theme" from 'Phantom of the Paradise. Would you ever consider doing more songs from that soundtrack? or maybe doing a "sequel" or sorts, since you would make a great Phoenix!
Lana: That's an interesting idea. I really love "Phantom's Theme" -- I thought it stood out as the best song from the movie. So I never considered any of the others.
R.F.: Besides working with your husband, what musicians would you love to work with on future releases?
Lana: I'm looking forward to working more with most of the musicians we've already worked with -- we have a really great team. Of course it would be great to work with Steve Vai, John Sykes or Ritchie Blackmore. If I could choose "living or dead", I'd also like to work with Cozy Powell -- he was my favorite drummer.
R.F.: What's your motivation to keep doing this genre of music?
Lana: We love playing music, and this symphonic, progressive, or whatever you want to call it style of music is the music we love most. We have been extremely lucky to have had some success with our music, and as long as we are able to do it, we will continue.
R.F.: What new bands do you lke? and what's in your CD player?
Lana: I really like Lacuna Coil from Italy and a German band called Flowing Tears. Both have female vocalists, interestingly enough!
Erik: I have to confess that I have been in a cave the last year or so, and I haven't listened to anything new at all!
R.F.: Do you have any guilty pleasures musically that your fans may be shocked to know?
Lana Well, of course I like big band swing music a lot. You can often hear this blasting in my house. Erik gets a little tired of it sometimes
Erik: I bought a Motorhead album several years ago, and I like it.
R.F.: What songs will be featured on the European tour? any surprise guests?
Erik: Kelly Keeling, the main vocalist on 'Music Machine', will join us for all the European shows. Hearing Kelly and Lana together will really be something special. As for the song list, we always do our best to play something from each of our many albums.
R.F.: What is next after the Erik & Lana European tour? North American tour?
Erik: We will try to play some shows in the US as well. Our sales have really increased here over the past year, so I think it might be getting easier for us to play in US. I hope so, anyway.
R.F.: Any word of the Rocket Scientists long awaited 4th studio CD? Any epic songs? Would you do a concept album again with RS?
Erik: It's there in the queue for sure. Mark McCrite and I have written some really great songs, and it will surely be another fantastic album. When we'll do it, I'm not sure. Soon, I hope. Rocket Scientists has always been a very song-oriented project. I wouldn't rule out the idea of a concept album, but that's generally not what the band is about. On the next album you'll hear some great melodic and memorable songs from Mark McCrite, Don Schiff and myself along with some firey playing and progressive instrumentals.
R.F.: Who will be the touring band for you & Lana in Europe?
Erik: The line-up is Lana Lane & Kelly Keeling (vocals), Erik Norlander (keyboards), Don Schiff (NS/ Stick), Peer Verschuren (guitars) and Ernst Van Ee (drums)
Latest 2003 Euro Tour Date Info
I'd like to thank both Lana & Erik for taking the time out of their busy schedule to meet me for this interview! Good luck in Europe and see you soon! ;)
Interviewed (in person) by Ron Fuchs on June 10th, 2003