Welcome to Prognaut.com. Thanks for taking time out of your busy schedule promoting your new album Solitaire, to talk with us about all things Edenbridge.
Prognaut.com - Where to start…you guys have an awesome catalog of music which I am working my way back through now that I have found you guys and purchased Solitaire. Which is your favorite? If you were advising a new fan, besides Solitaire of course, which album should they choose to begin their journey through the Edenbridge discography?
Lanvall: I think besides Solitaire they should go back the catalogue and start with MyEarthDream and then "Shine" and "The Grand Design". The further you go back the more the music changes of course as it is a natural development in our music.
Prognaut.com – Let's start by telling all of your American fans more about the history of Edenbridge. What are some of the highlights of the journey, so far?
Sabine: Edenbridge were formed in 1998. Lanvall, Kurt Bednarsky (our former bass player) and myself played together in another project before and when drummer Roland entered the band the line-up for our first CD-production was complete. We recorded "Sunrise in Eden" in 1999 on self-finance basis and sent it to about 30 labels around the world. Two weeks later Massacre records offered us a deal. The album was licensed to all important markets of the world (Japan, Korea, Taiwan, South and North America) and was a great success. In late 2000 we were on European tour with our label mates Pink Cream 69 and Axxis. In 2001 we recorded our second CD "Arcana" which marked a big step forward. Then we went on tour with Metalium here in Europe which led us from Spain to Scandinavia. Right after we went to Korea to play a show on the International Busan Rock Festival in front of 20.000 people and a double-headliner show with Sinergy in Seoul. In January 2003 our third album "Aphelion" saw the light of day followed by a triple-headliner tour with Trail of Tears and Sirenia through Europe. A show on the famous German "Summer Breeze Festival" in front of 12.000 people followed. In April 2004 we played our first shows in Russia, Moscow and 2 shows in England on the Bloodstock festival which were a huge success. Then our first live-album/DVD "A Livetime in Eden" came out. In October 2004 our 4th studio album "Shine" was released followed by a tour through Europe supporting Angra. In 2006 the first cover version saw the light of day, the release of a single with the famous James Bond title song "For your eyes only" (originally sung by Sheena Easton). The single was followed by the 5th full length studio album "The Grand Design". In 2006/2007 Edenbridge toured in Europe and Asia (China, Taiwan, Hong Kong). Right after we had to split with drummer Roland. He was replaced by Max Pointner. We signed with Napalm Records world wide. In 2008 "MyEarthDream" saw the light of day, featuring the Czech Film Orchestra followed by a big European tour with Rage followed by our 2nd visit to Krea where we headlined the Jump Guro Open Air in Seoul. In 2009 we did a European headliner tour. Finally in 2010 our 7th studio album "Solitaire" was released and charted in Germany !
Prognaut.com – Solitaire is amazing. Is the theme of the album loosely based on the story of Reinhold Messner's legendary ascent of Nanga Parbat and his experience trying to tackle the Diamir face with the loss of his brother? Or is that just Brothers in Diamir? I hear allot about leaving one's own mark in life and challenging ourselves to be the best we can be in all of the lyrics throughout. In the end we are all solitaire in our attempt to recognize and highlight our individuality and importance to the world story.
Lanvall: That's just the song "Brothers on Diamir". Solitaire is about the process of questioning old dogmas and the correlating paradigm shift we are in between.
It's about the universal power within us, which has been present down the ages and will exist forever. A diamond connection which is undestroyable. This part in us is unique and is finally shown to advantage in the chain. Like each water drop is unique and forming to the sea in connection with other water drops.
"Further Afield" is about a traveler shaping things with just his mental power.
"Bon Voyage Vagabond" is about an explorer. He is combining his drive to discover with the heart and soul of a poet. Those are very much the features of Jean-Luc Picard, the captain in Next Generation, a person I can very well identify with.
"Skyline´s End" is a synonym for freedom. It's a feeling the old mariners had cause they could explore the largeness in their inner self through the largeness of the sea. They were heading for the horizon's end and felt that this doesn't exist cause freedom has no limits at all.
"Out of this world" is about an outcast, feeling himself like an alien. He is perceiving himself differently than the rest of the society, which is fighting everything it doesn't understand. The outcast was shaped into form and is hopeless. He is dreaming about nothing else than being free again.
"Higher" is about reaching aims and getting higher and higher. We break our back and fight and don't recognize when we fight it's a fight against ourself. If we recognize this we don't need to fight anymore to get higher in life. To reach this aim is much more valuable than the little goals what we are aiming for normally.
"A Virtual Dream" is about being in a dream and out of place. It's about fear being part of a machine and the question if everything is just a virtual dream.
"Come Undone" is about a magic place of power which we never wanna leave again. In my case it's the village Serfaus in the Austrian mountains.
Prognaut.com – Thank you for the opening and closing epic overtures. They are simply some of the best I have heard in recent years. It really adds to any production or creation when bands push themselves to deliver this quality.
Lanvall: Thanks a lot for the complements. I think they sound quite huge and open up and end the album in a nice way. With such pieces I can simply concentrate totally on the orchestra and choir which is a lot of fun to compose and see how it grows.
Prognaut.com – The use of the orchestra and choir on Solitaire makes every note so epic. How do you coordinate this and please explain to the audience how difficult and time consuming this must be.
Lanvall: Well, you might be astounded but we didn't use a real orchestra and choir on "Solitaire". This is all samples but of course I have some of the best available at home and pretty know how to make the sound great. Especially the choir is a hell of a work with the word builder programme. There are less orchestral parts on the new album than on "MyEarthDream". As on the last album I did all the orchestrations on this album again. Working with a real orchestra costs a fortune of money and the sad thing is that most people do not recognize if it's a real one or not.
Prognaut.com – "Solitaire" launches this album and continues the power of the Entrée Unique. What are your highlights from this piece?
Lanvall: I think the chorus is really a great one with its melodic run and the interchange between 16th notes and triplets in the drums and guitars. The next highlight is the orchestral mid part over the constant triplet movement of guitars and bass and this huge choir/orchestral endpart where a lot is coming together. Prognaut.com – "Higher" is the first single off Solitaire and the video you made for it fits with the epic theme. Although there is an accompanying 'Making of' video, can you tell us about what it was like to make that video?
Sabine: "Higher" is about reaching aims and getting higher and higher. We break our back and fight and don't recognize when we fight it's a fight against ourself. If we recognize this we don't need to fight anymore to get higher in life. To reach this aim is much more valuable than the little goals what we are aiming for normally.
The main idea for the concept came in my mind when I meditated over Lanvall's lyrics and everything grew during the process of developing the story. Timor, the actor who performed the fighter in the video contacted me during this process, after we didn't see us for nearly four years. He wanted to know how I am and I considered his e-mail as a gift from heaven. He was totally happy when I told him of the video idea. Timor and his friend Martin did a really great job. We had a lot of fun on the days of shooting.
Prognaut.com – You do have a massive fan base as evidenced by the large amount of You Tube videos that exist of your catalog of songs. Most of this fan base seems to be in Europe. Do you have specific plans to promote yourself in America, or North America in general? Is there a tour planned for the US in the future?
Lanvall: Unfortunately there is no tour planned at the moment in the US. There were some plans coming together with another band as double headliners but it didn't work out. The financial risk would have been much too high.
Prognaut.com –" Skyline's End" is a drum masterpiece at its opening. Would Max Pointer like to give us his take on the recording process and his involvement in Edenbridge?
Lanvall: Max did a great job on the whole album, recording everything in just 1 ½ days which is phenomenal. Max comes from the Death Metal (also playing in a band called In Slumber) where he is used to play in tempos beyond 200 bpm. But his groove and also his technical abilities are awesome. Listen to the guitar solo of "Out Of this world" what he is playing underneath.
Prognaut.com – Ok, I held out as long as I could on a question for Sabine. Wow, what a talent. I haven't heard such a lovely voice since your label mate Marcela Bovio of Stream of Passion. Sabine is simply operatic and powerful. She brings the power to keep up with that heavy drumming and soaring guitars, while at the same time conveys the warm of emotion with her vocals. That is a rare talent to have both. Please let her tell us of her beginnings and involvement in the band.
Sabine: Thank you very much. Since I was a little child music was a direct access to my inner self more than anything else. I recognized soon that music is bringing me to myself, to my emotions as to my inner force what I would define as soul today.
Especially my mother has supported my way unconsciously with her sensitive being. She loved to sing with me without restraint and without having the aim to reach something. We spent whole afternoons like this and had a lot of fun. The fact that I didn't grow up with her, this common ground bound us together and this will last for a lifetime.
Besides I have been working on training my voice since I've been a little child. I have put a lot of effort that my voice sounds clear and I have experimented with that endlessly and on my expression. And I have also recorded everything with a simple cassette recorder and listened to it with critical ears. That was a lot of fun.
My wish was to become a professional singer from now on although I never made up my mind about stardom or fame or anything else. I also never had anybody as an example, I always listened to my inner voice when singing. I sang in choirs when I was a child. Later I took lessons at a very good teacher, who sent me on my inner way with her breathing and body exercises. This way I still follow.
The biggest challenge for me was to follow the inner desire to express my feelings in front of an audience. Because on the one hand I wished for nothing more than touch other people with my voice, on the other hand it was my biggest fear to be on stage and attract all the audiences' eyes´. My stage experience before Edenbridge was just a girlie pub band where I was guitarist first and then singer, so I was not on the front.
With Edenbridge I jumped into the cold water in the year 2000, because we changed from a project to a band with our first CD "Sunrise in Eden" and immediately went on European tour. That was heavy for me. But I soon recognized how Lanvall´s music that suits me down to the ground, is carrying me and how the power of the boys in the band are layering down the ground, where I can venture outside. I face this as a life time developing process.
Prognaut.com – Lanvall, where do you look for inspiration for stories and lyrical themes?
Lanvall: Nature is the best inspiration. I love being in nature be it in the mountains in summer and winter doing skiing and mountain hiking. I love the sea, just returned from a trip to Bali which was fantastic. I love walking in the woods and reloading my batteries. But also music itself and movies are a good inspiration for my own music and lyrics.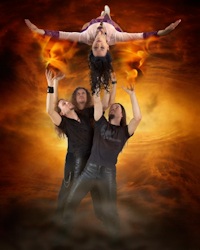 Prognaut.com – The production on Solitaire and all of your albums I have so far is incredibly dynamic and clear. How do you manage to keep all parts of the opera so evenly divided between vocals, guitars, drums, keys and all other instruments? Everything can be heard so clearly.
Lanvall: This is the tricky thing when you have up to 200 tracks per song as we sometimes have. You need to find space for everything which you always have to bear in mind during the arrangement process. An orchestra can sound huge, but when it plays all the time there is no more space for anything else like guitars. Karl Groom is simply brilliant with his knowledge about mixing an album powerful but crystal clear so it's always a pleasure to work with him.
Prognaut.com – "Bon Voyage Vagabond" is another wonderful song off Solitaire. Can you tell us of its genesis and the cool mood you were trying to create with this song?
Lanvall: I love this song too: It starts off with some cool brooding orchestra backings and a guitar line, then builds up and erupts in a powerful straight forward riff. The chorus is huge due to the interaction of Robby Valentine´s choirs with Sabine´s lead line. I also love the piano mid part where everything is calming down a bit and building up in the orchestra mid part exploding in the end.
Prognaut.com – Which song is Dominik Sebastian's favorite? If he would like to comment on his involvement with this project please let him add that here.
Lanvall: Dominik contributed with a great acoustic piece called "Eternity" what he performed on his own. It's one of the bonus tracks of the album and carries some nice atmosphere after the song "Further Afield". To be honest I have no ideas what his favorite song is on the album haha.
Prognaut.com – "Come Undone" is another song which sounds like it is crafted with such precision. Can you tell us about its development from idea to completed work?
Lanvall: I think I had the unusual sounding crunchy clean guitar riff and builded the verses around. I also had the heavy opening riff which is really cool and everything developed to the great chorus. The funny thing is that the guitar solo is the one from the demo. It just had this perfect feel I couldn't do better in the real album recordings, so I took the demo version.
Prognaut.com –" Out of this World" really is, to my ears. Lanvall, you and Dominik do a fantastic job creating incredible effects with guitars, but tell me a little about the keys and piano you use on this song.
Lanvall: The whole song builds upon atmospheric keyboard patterns, so I had the idea of coming up with this clean guitar pattern which plays the same rhythm as the percussion loop supporting it. Apart from this it's just a nice acoustic line in the verses whereas the chorus is more dominated by the piano. With the piano I always support the vocal melody building up the chords which always has a great effect to the arrangement and the overall sound.
Prognaut.com – Lanvall, the use of the Bazouki on "Further Afield" is wonderful. As a multi instrumentalist which is your favorite to play?
Lanvall: Well, actually this is not a bouzouki but a Valiha sample. The bouzouki I used in "Skyline´s End". I have a lot of foreign string instruments at home and I love them all. The bouzouki is always great for Irish and Mediterranean sounds as the mandolin. And then I have the Pipa, a Chinese lute which I used on our last album on "Place of higher power". When Sabine and I were on promo tour in Indonesia I bought a kacapi, a traditional string instrument which sounds great and I will buy an electric sitar soon. Apart from this I have a great ethnic sample library which is always great to combine with the real instruments.
Prognaut.com – The power of the choir can be felt throughout this album. However, it is especially good on "A Virtual Dream?" While listening to "My Earth Dream" and the "Grand Design" you can hear more of the beginnings of this sound. Was there a conscious effort to make the music more epic by including an outside choir for dramatic effect?
Lanvall: The funny thing is that it's only 2 people namely Robby Valentine and Dennis Word doing the choirs. Dennis does the rockier parts and Robby the epic parts. And both voice blending so nice with Sabine´s lead voice.
Prognaut.com – The closer, "Brothers in Diamir", is epic like the entire album. Which side of the story of Reinhold Messner do you agree is true? That he was seeking fame at whatever cost or that he only went on with incredible trepidation, consumed by the loss of his brother?
Lanvall: It is the truth meanwhile that Reinhold´s story is absolutely right cause the place where Günther was found when the ice released him underlined Reinhold´s story.
Prognaut.com – Which is your favorite song off Solitaire? Which was the most fun to write? And to Play?
Lanvall: Difficult to say cause to me as the composer of all songs they are all important. I also could not say which one was the most fun to write and play.
Prognaut.com – My Earth Dream was your last album. Did A Force Within provide the impetus for the overtures on Solitaire?
Lanvall: Well, "A Force Within" had a completely different build up and also just some kind of backing choirs in the end section while "Entree Unique" and "Exit Unique" really are choir dominated. "Entree Unique" is more or less and edit version of "Exit Unique" as it would have been to long to use it for a whole intro. "A Force Within" is very Bruckner like in ist instrumentation.
Prognaut.com – For me, Whale Rider and the epic closer My Earth Dream are my favorites. How about you?
Lanvall: I love this song and I had it in the drawer for years. I always knew this song can only be realized with a real orchestra what we finally had on "MyEarthDream". I still have goosebumps listening to the chorus and the endpart.
Prognaut.com – What is your personal earth dream?
Lanvall: A world where mankind is respecting nature and learns to live with it in harmony again. This is the message of the song "MyEarthDream".
Prognaut.com – "The Grand Design" is also an epic album. It is full of positive lyrics and music. What inspired the themes on this album?
Lanvall: "The Grand Design" is dealing with the beginning and the end of the earth, the Alpha and Omega. So we have this macro cosmos on the title track and the opener "Terra Nova" which are linked to each other. Those are the 2 big epic tracks. The tracks in between describe the different state of feelings of a human being during life, so this is the micro cosmos. The child and the old man on the cover representing this too, beginning and end.
Prognaut.com – "Terra Nova", "Flame of Passion", and "The Grand Design" are my favorites. Which is the band's?
Lanvall: I still love the title track, this is a real epic with all the great different parts in the middle. For me also the 2 ballads are very important, especially "The most beautiful place".
Prognaut.com – The cover of "For Your Eyes Only" made me forget all about Sheena Easton's version. How much fun was that for Sabine to sing? Does she plan any future Bond songs? I would love to hear her sing You Only Live Twice, which is my favorite Bond song, any chance? Maybe an original for a future sequel of the movie?
Lanvall: I think this was a one off experience but never say never. I love nearly all of the Bond title tracks and "You only live twice" is a great song. I think 5 years ago the time was write to do this song but at the moment we have no plans for a cover version.
Prognaut.com – "Empire of the Sun" was also a wonderful addition to the version of the album I bought. Same with Anthem off Shine. What is it that keeps these great songs off the main album, and gets them added later?
Lanvall: Mainly because they are instrumental songs. "Empire of the sun" was originally written for my 4th solo album which I never finished but in the meantime I was able to put a lot of the material on Edenbridge albums as bonus tracks, the same with the "MyEarthDream suite" which I think could have never been realized that way without the real orchestra.
Prognaut.com – So what is next for Edenbridge? A world tour? Or will you go back to the studio to record more?
Lanvall: At the moment it is preparing tour plans for Asia. There are 3 shows in Indonesia planned for November, one of them possibly with a real orchestra which would be fabulous. There are also some plans for shows in Vietnam and some other countries, so we are looking forward. I have some new ideas, some of the also worked out but it´s too early to speak about the next studio album.
Prognaut.com – Is there a venue or city you have always wanted to play?
Lanvall: Japan is definitely a country I want to play. We've been in Asia 3 times but unfortunately Japan haven't worked out yet. And the US would also be great of course.
Prognaut.com – Is there anything I haven't asked that you would like to write about?
Lanvall: It was a great interview and fun to answer your question which thankfully differed from a lot of usual interview questions. Prognaut.com – Thank you for taking the time to answer all of these questions. We wish you and the band success and hope we will someday see you play live in the USA. Thanks.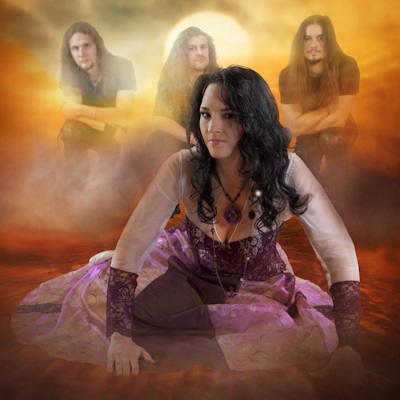 Prognaut.com - Thanks a lot for the interview too, Sabine and Lanvall.
Interviewed by Prof on August 7th, 2010