Well, I was certainly looking forward to this year's CalProg after missing my first one last year due to a move to Houston Texas. This another great line-up as it is every year. Thanks Papa Jim! Well worth a trip from Texas!!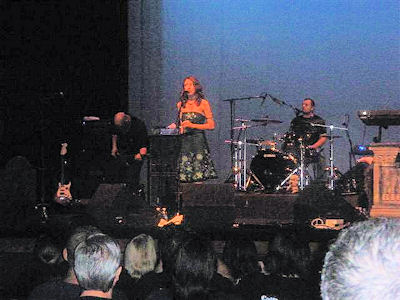 (Courtesy: Terry Jackson)
First up were the band Touchstone. They performed well, with the bass player and female vocalist basically stealing the show from the other three players. Papa Jim called bass player Paul "Moo" Moorghen effervescent, and he was spot on. Vocalist Kim Seviour (wearing a gorgeous green dress that had most of the male audience hoping for a wardrobe malfunction), was a captivating performer and sang with a style that reminded me alternately of Annie Haslam or Grace Slick. I was hoping they would honor the CalProg tradition of doing a prog cover with "Somebody to Love." It would have been perfect! They unfortunately did not honor the tradition at all. That was a bit disappointing. All in all they pulled in a good set to start the day.
After an hour and a half break where I spend entirely too much cash in the vendor room came Agents of Mercy. This is the band representing the project from Roine Stolt of the Flower Kings and Nad Sylvan from Unifaun. They played music that was gentle and pastoral. Nad's voice reminds me of an early Peter Gabriel, and with the lovely symphonic flavors brought in by Roine, I was in classic Genesis heaven.
We were kicked out of the theater for a short while until the same band rechristened Karmakanic took to the stage. This band, lead by Jonas Rheingold from the Flower Kings brought the energy level up to a new level. Beautiful harmonies and melodies peppered with incredible extended jazz interludes... absolutely electrifying! This is where keyboardist Lalle Larsson really came to the fore. Goren Edman (who sang back up to Nad during the last set), took over lead vocals with his classic AOR voice that impressed me greatly. I can't finish this part of the review without mentioning Nick D'Virgilio from Spocks Beard stepping in behind the drum kit with very little rehearsal. This man is amazing in his talent and range, playing with taste and delicacy during the first set and pounding out the crazy time changes with the second band. He even got a nice drum solo! The audience was not the only ones impressed with Nick. You could tell that Roine and Jonas were ecstatic to have a man of this talent playing with them.
Tom Brislin played a nice, low key performance in the patio with nothing but his electric grand and his voice that was a nice diversion. I especially liked his musical history of Tom leading to Spiraling. Please Papa J, don't stop this aspect of CalProg. It's awesome to hear these performers in a stripped down, "Unplugged" version.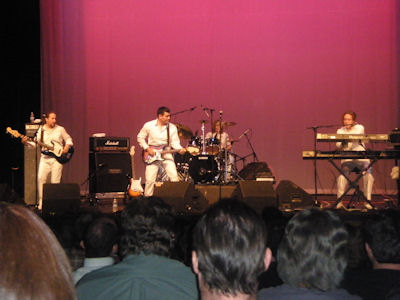 (Courtesy: Terry Jackson)
At 8pm after a two hour plus break came headliners It Bites. There's a reason why they went on last. Who could have followed these guys? Catchy melodies and spot-on harmonies, they played old and new tunes with equal confidence. New leader John Mitchell last played CalProg with Kino and now here with John Beck and company. John can do no wrong lately with his choices of musical compatriots in my opinion.
After such a great day of music and fun, it was over around 10pm. Well orchestrated and organized, another CalProg success!! Thanks Papa Jim!
Reviewed by Terry Jackson on October 19th, 2009